Introduction to Supplier Development
Manufacturing and service organizations all purchase materials, parts or assemblies from external suppliers. Automotive manufacturers purchase parts and materials from multiple suppliers for assembly at their plants in the US and abroad. They possess established supplier selection, qualification, development and monitoring processes. They build collaborative relationships with their suppliers. Yet they still have occasional quality issues with supplied parts. Even with an established system in place, there are instances when components or assemblies are sourced from a supplier either new to the market or new to the industry. In those cases, it is important to assist the supplier in learning and applying certain quality methodologies and tools. The supplier may require coaching, training and guidance to enable them to develop into a top performing business partner. Developing suppliers of vital goods and services can result in lower cost, improved quality and consistent on-time delivery. There is no way to absolutely guarantee that your product will never have a quality issue due to non-conforming supplied parts or materials. With that said, there are methods to reduce the risk of failures and their impact on your organization and most importantly your customers. Through the implementation of robust Supplier Development and Supplier Quality management tools and methodologies, the risks are minimized, and the benefits maximized.
What is Supplier Development
Supplier Development is an investment of time and effort by an organization to develop or grow their suppliers over time to reach and maintain the required level of quality, on-time delivery and responsiveness. Proper supplier development can improve a supplier's capability and technical knowledge, reduce cost and promote a mutually beneficial culture of collaboration and continuous improvement. Supplier Quality is the method or metrics used to monitor and evaluate the quality of the supplier's goods and services. By utilizing supplier quality and development methodologies, an organization can gradually build a solid supply chain consisting of high-quality, dependable and consistent suppliers. Some key aspects or pillars of supplier development are as follows: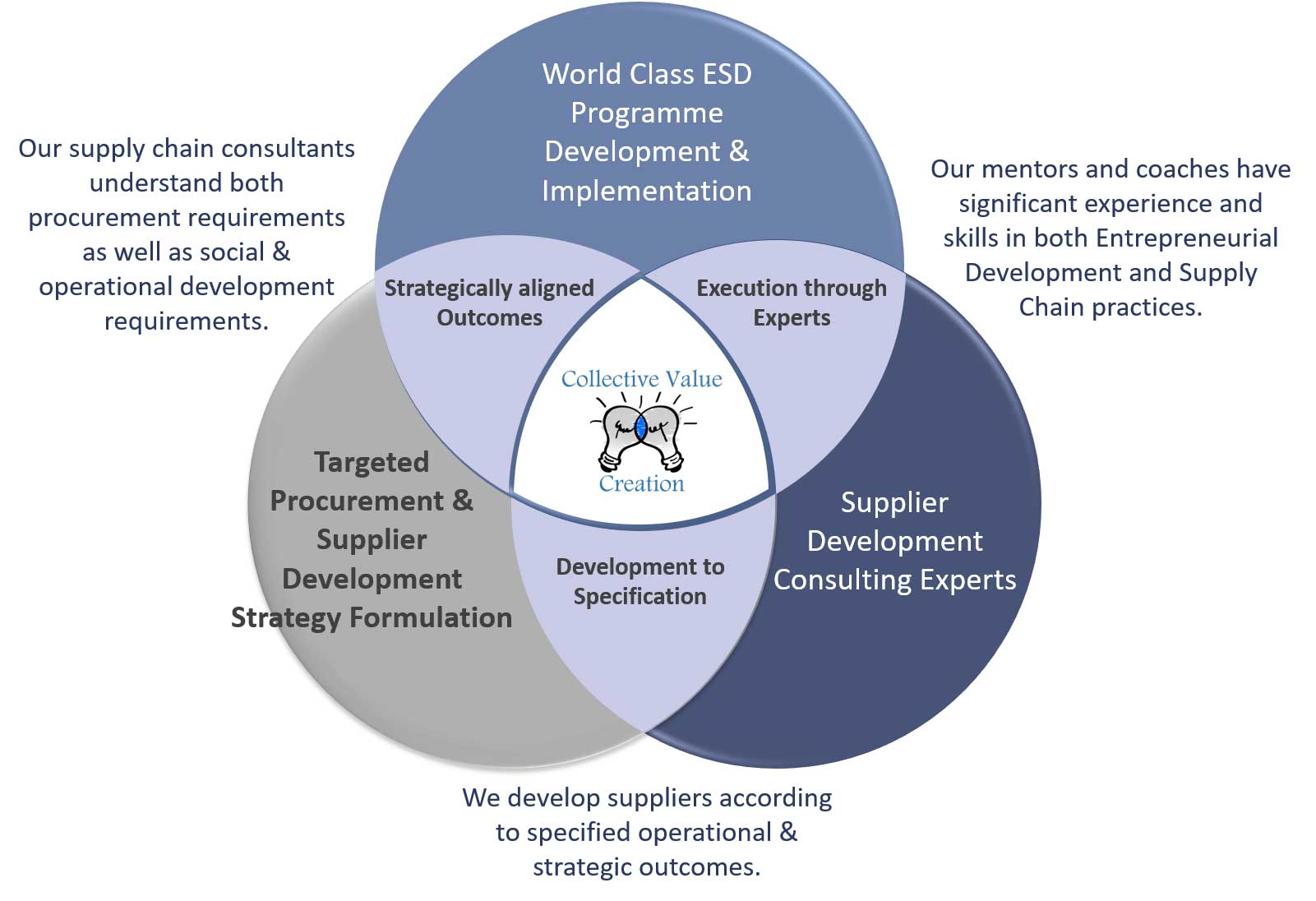 Supplier Collaboration
Collaboration with the suppliers early in the development cycle can reduce or eliminate late design changes and assure the supplier is capable of producing the part or assembly to print tolerances. It is beneficial to involve them early in new product development programs and provide them with the information required to be successful and meet design intent. This collaboration has the potential to reduce development time and foster innovation in product and process design.
Track Performance and Standardize Quality Metrics
Through the standardization of metrics, all suppliers are then evaluated on the same scale. Supplier scorecards are commonly used to document and monitor performance. The scorecards enable the organization to rank a supplier's performance relative to the entire supply base and assist in tracking improvements or reductions in the supplier's quality over time. Tracking performance over time will provide a broader view of performance and quality trends. The metrics frequently tracked are quality, delivery and responsiveness to any quality issues.
Monitor the Cost of Quality
The Cost of Poor Quality (COPQ) can devour a significant portion of an organization's profit margins and annual revenue. Unfortunately, many organizations fail to measure and track COPQ at all or in a systematic and consistent manner. By calculating and monitoring COPQ, organizations can identify problem areas to address or identify opportunities for cost reduction. The Cost of Good Quality (COGQ) should also be measured. COGQ includes costs associated with preventing supplier quality issues, maintaining a Quality Management System (QMS) and monitoring supplier quality. Investment in COGQ generally results in fewer supplier quality issues.
Perform Regular Quality Audits
Utilize regular supplier or Second Party Audits to align the supplier with internal product or process quality standards and promote continuous improvement. While it is usually not possible to audit all suppliers on a regular basis, the information gained from measuring and monitoring the supplier metrics will indicate the "at risk" suppliers. One of the primary objectives of a supplier audit system is to prevent any quality issues from reaching your customer. In addition, the supplier audit can be used to assure the supplier is capable of producing and delivering the appropriate quantities to meet demand. A well-planned audit system helps assure that quality parts are received on time, every time.
Collaborative Approach to Corrective Actions
Through utilization of a collaborative approach to corrective actions, certain problems and miscommunication issues can be avoided. It is important to ensure that the supplier is aware of what is expected of them when a quality problem arises and a Corrective Action Request (CAR) is issued. Take the time to train suppliers on quality policies and requirements before a problem arises. Collaborate with the supplier closely during each stage of the corrective action process. Provide them detailed and thorough information regarding the non-conformance. Let them know your expectations regarding short-term countermeasures, problem investigation, Root Cause Analysis (RCA), permanent corrective actions and the proper method of reporting their progress and results. Taking the time to inform and train suppliers will pay off by maintaining a good working relationship and preventing the recurrence of any non-conformances.
The supplier development activities benefit both the organization and the supplier. Collaboration and clear communication of expectations are essential for developing better relationships with suppliers and improving product quality. Supplier development is about building a strong supplier base integrated into a corporate culture that regards suppliers as an extension of their business, as partners and not separate entities. When implemented properly, robust Supplier Development / Supplier Quality systems generate significant value through the reduction of quality or delivery issues, reducing cost and strengthening your brand equity.
Supplier Development / Supplier Quality Consulting
At Quality-One, we will provide the information, guidance and support needed to develop an effective and robust Supplier Development / Supplier Quality system within your organization. We offer expert consulting services appropriate for organizations in the initial stages of implementing Supplier Quality and Development as well as companies that have identified a need for improvements to their current Supplier Quality / Supplier Development systems. Our Supplier Development team has extensive knowledge in the required core competencies, proper certifications and vast experience in effective supplier interaction. Our Supplier Development / Supplier Quality Consultants can provide:
• Guidance in developing a strategic plan and defining risk for development and implementation of your Supplier Quality / Development processes
• Instruction on proper supplier engagement, collaboration and project management
• Assistance in the development of your Quality System, Processes and Controls
• Coaching and mentoring for your management teams during implementation of your Supplier Development / Supplier Quality systems
• Expert consulting prior to and during the implementation of your Supplier Development / Supplier Quality systems, which can reduce time to launch and increase the effectiveness of your systems

Supplier Development / Supplier Quality Training
Proper training provided by highly trained professionals is vital to the successful implementation of an effective Supplier Development / Supplier Quality system. Professional sports teams do not hit the field without the proper training. They train extensively with one goal in mind. They train to win. By providing proper training for your team, you are not only investing in their success, but in the success of your organization as well. At Quality-One, we have the professional resources, experience and extensive knowledge allowing us to provide effective Supplier Development / Supplier Quality training. At Quality-One, we have multiple training options available, including:
• Onsite Training at your facility, where one or more of our professional instructors will provide effective, professional training to your teams using, examples and sharing experiences relevant to your products and processes.
• Offsite Training at one of our Technical Training Centers is an option that allows the participants a chance to escape the interruptions from daily work activities and devote their full attention on the subject matter. This generates increased knowledge transfer and a higher level of engagement and participation.
• Online Overviews are also available and provide the participant with an introduction to Supplier Development and Supplier Quality methodology and related tools. The online course is self-paced allowing the participant to work around their busy schedule. Content is available 24/7, and the participant will have 30 days to complete the course.
Regardless of which option you choose, Quality-One's Supplier Development / Supplier Quality Training is a wise investment. Training is an investment in your most precious resource, your team. Every day organizations invest in many things, in many ways, investing in the latest technology or new facilities. While all of these investments are important, there is nothing more impactful to an organization's success than investing in their people through professional training provided by industry leading subject matter experts.
Supplier Development / Supplier Quality Support
Executing the strategic plan for Supplier Development / Supplier Quality implementation will require a significant amount of time and dedicated resources. In today's extremely competitive business climate, organizations are forced to accomplish more with less. In addition, the situation can arise when there is a need for immediate support. Recruiting, screening and hiring qualified personnel are costly and take time. At Quality-One, we have a staff of experienced Supplier Development Experts (SDE) ready to provide the support you need to implement Supplier Development / Supplier Quality processes at your facility. Whether you require short-term or long-term support, Quality-One can meet your needs. Our seasoned professionals can provide support in many ways, including (but not limited to) the following:
• Assist your teams in implementing Supplier Development / Supplier Quality tools and processes at your facilities
• Provide support and guidance during supplier engagement and collaboration efforts
• Perform or participate in 2nd party / supplier audits when required
• Assist with the implementation of supplier performance tracking tools and the establishment of quality metrics or KPIs
• Provide assistance and instruction on proper supplier engagement, collaboration and project management
• Work with your suppliers during problem solving activities, including RCA and development of temporary and permanent countermeasures
Whatever your needs may be, our SDEs are available to support your goals. Through implementation of Supplier Development / Supplier Quality methodology and tools within your organization, you can improve supplier quality, reduce cost and enhance your brand equity.
If you would like more information, training, project support and supply chain management please contact us. Email: bensing.yang@sinuoph.com