Vertical Coloration between supply chain partners, such that the manufacturer tries to involve the supplier in the product development process from a very early stage is referred to as the Early Supplier Involvement. These suppliers act as an important source of innovation for the product development process.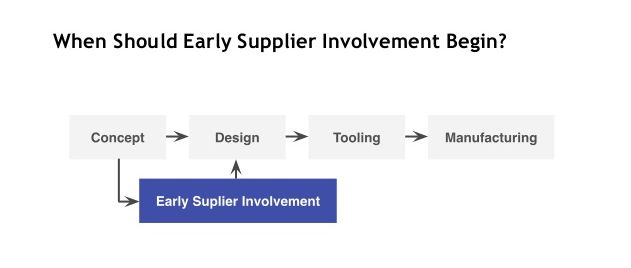 The Benefits of Early Supplier Engagement
Identifying unique solutions early in the development process introduces opportunities for both cost and time reductions.
As many organizations face increasing competition, the pressure to introduce innovative customer solutions also increases. This pressure creates an urgency to accelerate technical development, shorten product life cycles, reduce lead times and improve response times. Simply stated, heightened competition creates an increasingly compressed timeline for producing innovative products.
Engaging suppliers early in the component development and design process can improve the odds for success and provide advantages in today's competitive and global marketplace. Even vertically-integrated manufacturers can be at a competitive disadvantage by assuming all processes in house.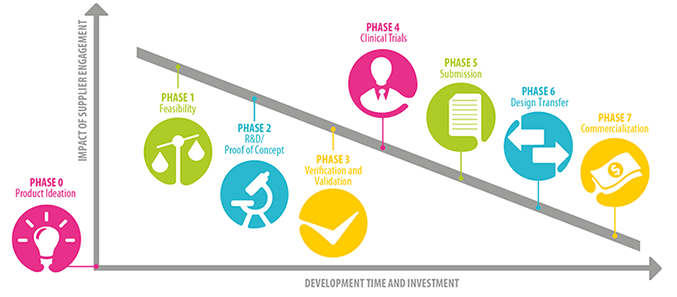 Relying on the expertise of the supplier in areas of material and component suitability can save time and cost in the development process. Competent suppliers should possess the optimal knowledge base and technologies related to the components they supply. In short, experience matters.
Generally, optimal value is realized when Early Supplier Engagement (ESE) is employed at the very first stages of concept development. In essence, the ability of an organization to remain competitive is largely dependent upon the amount, quality, cost and timing of its materials and supplies, as well as the effectiveness of its supply chain. These factors can include materials, prototypes, optimal part geometry, manufacturing processes, packaging and logistics. ESE should be considered a fundamental activity as 80% of product cost are identified and committed to during the design phase.
The ESE process starts by defining the customer's needs and goals: what do they want to accomplish over the product life span? This process helps the customer define reliable target costs for components early in the design process and eliminate unanticipated changes in the cost equation. The customer can then outline the program requirements and share the project's technical information. A mutual exchange of reliable and consistent information, and establishing and agreeing on timelines is critical to ensure that all expectations are met. This stage can also determine manufacturability and integration of components in the final product/assembly. It is increasingly common for suppliers to assume a greater role in the assembly process as a value added function, contingent on capability.
The bottom line benefit of ESE is enhanced quality and decreased costs, driven by
· Improved component design resulting in better manufacturability and a more efficient manufacturing process, and
· Reduced number of design iterations and engineering changes resulting in a shorter development timeline.
In summary, Early Supplier Engagement, or ESE, can help to establish and maintain a mutually beneficial framework of collaboration, innovation and trust between two organizations. Implemented intelligently, the process will yield significant benefits to both the supplier and sourcing organizations. This is a far more effective way to address increased competition over the long term than by competitive pricing alone.
The 3 Key Advantages of Early Supplier Involvement
In case you desire to outsource the development and/or production of a mechatronic machine, it is wise to involve a system supplier early on in the process as Early Supplier Involvement (ESI) poses major advantages.
Increasingly more often, OEMs work together with a system supplier that enables them to outsource the production of a machine or module. Nevertheless, the system supplier is often involved once the OEM has finished the majority of the development process. By doing this, the OEM disregards many optimization opportunities. One capitalizes on three key benefits by making the most of Early Supplier Involvement during the concept phase of new product development: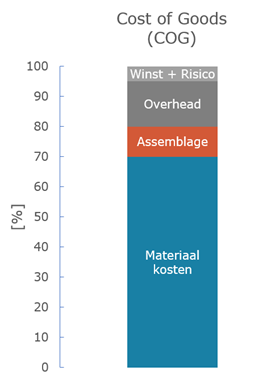 Advantage #1: Cost Price Reduction
During new product development, a business case often fails to deliver a positive outcome (initially). This regularly stems from certain concept choices that are being made early in the development process.
When an OEM chooses to involve a system supplier later on in the process, these concept choices have already been made. This implies the costs for components and materials – which account for 70 to 80% of total costs – are already defined. The picture underneath represents this situation. This is a shame; by utilizing the knowledge and expertise of a system supplier in the realm of new product development, one significantly reduces costs. Involvement of a system supplier during the concept phase enables an OEM to buy the right materials – on the basis of the chosen concepts – at acceptable costs.
Advantage #2: More Efficient Production Process And Improved Manufacturability Of The Product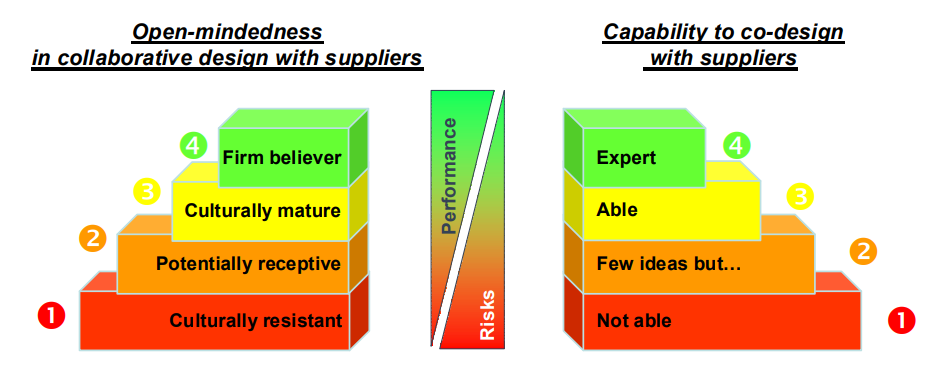 As a system supplier, MTA focuses on optimal manufacturability of the product at hand. In this so-called industrialization process, a well aligned supply chain is pivotal, especially when it comes to critical parts that are most expensive. Because of extensive experience in the field of engineering and manufacturability, the right materials can be selected. This guarantees an efficient production process.
ADVANTAGE #3: SHORTER TIME TO MARKET
By being the first one to introduce a new product, one outperforms the competition. Time to market is critical due to fierce competition and pressing time constraints. In this, ESI positively influences the lead time of the production process. The involvement of a system supplier in an early stage of the process results in a relatively shorter iterative process during the development of the module, ensuring timely achievement of the desired result. This enables speedy initiation of the production process, which has a positive influence on market share.
WIN-WIN-WIN
The three abovementioned advantages are highly intertwined. By focusing on purchasing the right materials, one not only saves costs (advantage #1). The right selection of materials results in an improved manufacturability of the product and a more efficient production process (advantage #2). Logically speaking, the third advantage (a shorter time to market) belongs to the equation as well; improved manufacturability and a more efficient production process result in a shorter lead time and an accelerated launch into the market.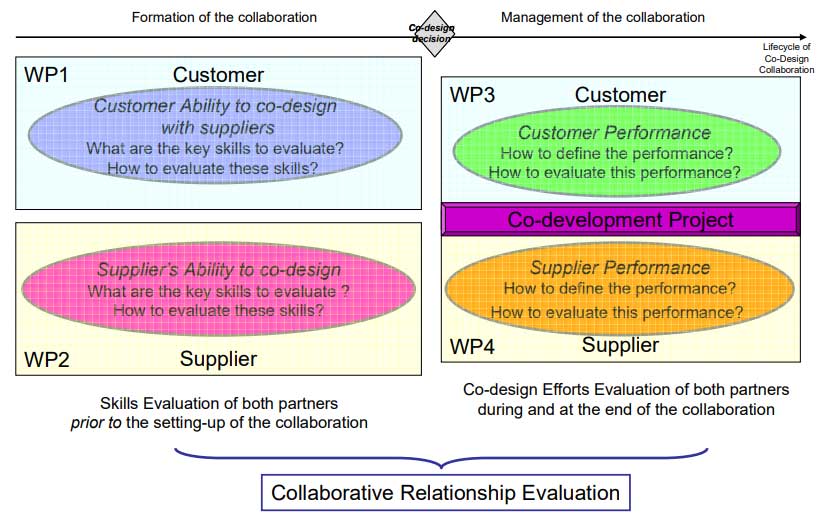 Employment of Early Supplier Involvement allows timely identification of project risks in the realm of cost price, manufacturability and lead time. This enables targeted management of risks that may be diminished or even eliminated.
If you would like more information, training, project support and supply chain management please contact us. Email: bensing.yang@sinuoph.com