Inspection – Factory Audit – Lab Testing

SINUOPH is a professional quality Pre-shipment Inspection company with operations in most major Asian manufacturing hotspots, we focus on:
 On-site Inspection
 Factory Audit
 Lab Testing
If needed, sourcing, and order management services are also available.
Our inspection and audit operations cover China, India, Vietnam, Malaysia, Thailand & Bangladesh. We have been supporting clients from all over the world in monitoring, maintaining, and improving the product quality level.
We have great advantages over flexible & close services, competitive prices & strong technical expertises. Our team is composed of many talents from fields like lab testing, quality control inspection, product sourcing, merchandising, supply chain managements etc., with years of working experiences in their respective fields.
With our services, you will stay on top of your quality performance conveniently and economically, protect your company and brand honors from inferior quality, and be more focused in winning customer satisfactions and brand honors.
Why inspection?
First of all, every batch of products has some defects, just like there is no 100% pure GOLD, and like the purer the gold, the harder and costlier to achieve. All manufacturers have, or should have their QC department to minimize the defect rates to an acceptable level. But all inspectors are subjective, or they too, might just check periodically instead of every pieces. The extra pair of eyes will help ensure the quality. But very commonly, lots of factories don't even have in-house QC.
Secondly, you have a commitment, and should have make a promise to your clients or consumers that you will deliver quality products to their hands. With our service, at a small cost, you can monitor, analyse, and keep track of your quality performance.
And after all, when you are buying from a supplier, and you want to make sure things like the quality, quantity, packing etc. are as expected before shipments, so that there won't be SUPPRISES upon arrival.
What is pre-shipment quality inspection?
We can send an inspector down to the factory to do the inspection on-site during the production and before the shipment.
Pre-shipment product quality check points:
· Product specs and customers' requirements
· Measurements check
· Quantity verifying
· Packaging and drop tests
· Labels & markings, Logos check
· Aesthetic, surface and function check
· On-site function check and testing
How does it work?
· We will evaluate/validate your bookings; Will send you invoices for payment after bookings confirmed;
· We will contact the factory to confirm the inspection date and location;
· 24 hours after the inspections, we will send you the inspection reports with findings, pictures, and comments etc., so that you can decide if the suppliers can go ahead with shipments, or they should rework them first.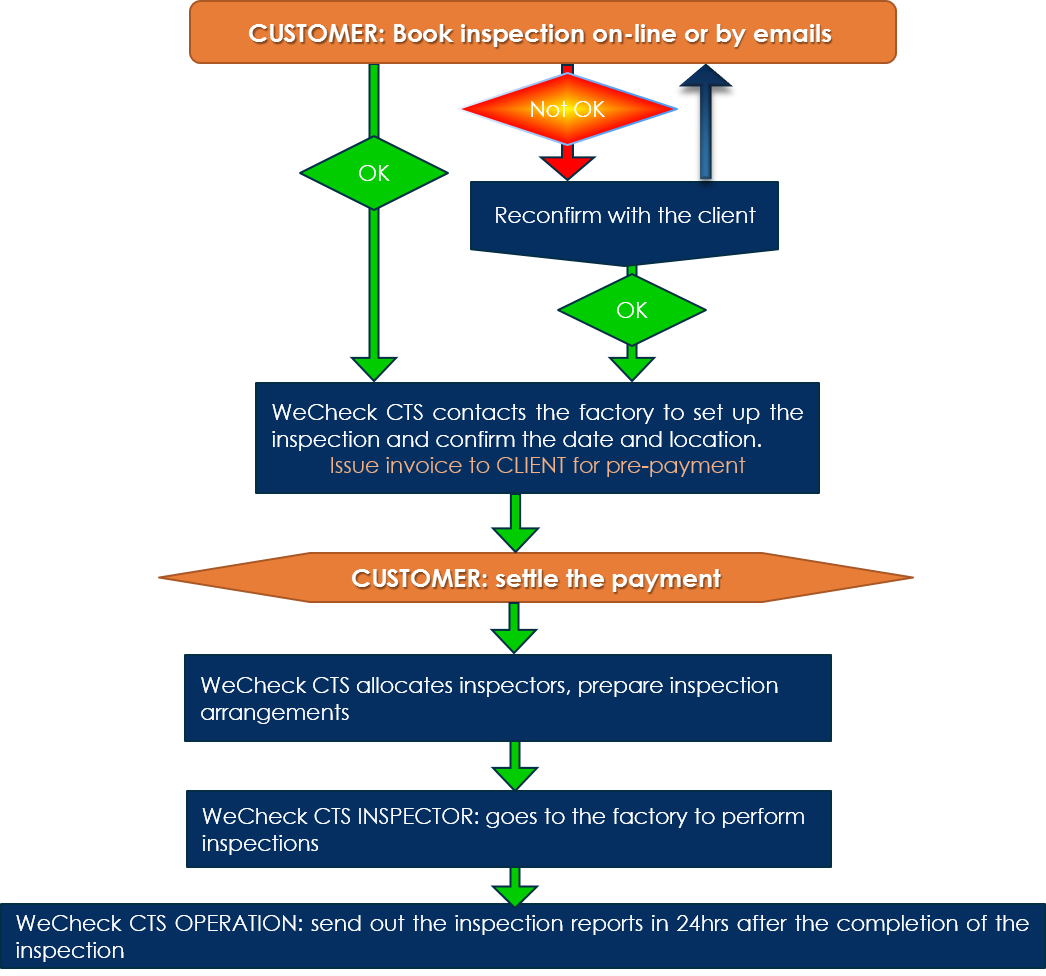 When can you give us the booking?
After you place the orders to your suppliers. Or at least 2 working days before the inspection date. Otherwise we can only promise we will do our best to make the arrangement
Where does our operation cover?
We operate mainly in mainland China, with inspectors located all over the country, mostly at manufacturing hotspots. We also have some small operations in China, India, Vietnam, Malaysia, Thailand & Bangladesh.
Who are out clients?
Mostly international buyers, and some local buyers, who want to:
· maintain and improve the shipment quality level, mostly our clients buy from the same suppliers;
· Make sure the shipment quality is acceptable, mostly our clients have no stable suppliers;
· Customers just realize the importance of quality management.
AQL standard?
It stands for Acceptable Quality Limit (Level): The maximum percentage or proportion of nonconformities in a lot or batch that can be considered as a process average.
It will also guide you how to determine the sampling size. For general products, the commonly adopt sample size is Level II.
Our Service:
Pre shipment Inspection:
A Pre-Shipment Inspection is a systematic inspection of units selected at random from all batches of your order, conducted when your production is completed at a certain percentage. This is your final opportunity to take corrective action before your production is finished and packed; making it an effective tool to safeguard your product against costly import risks.
Pre shipment Inspection Checklist:
- Product specs and customers' requirements
- Measurements check
- Quantity verifying
- Packaging and drop tests
- Labels & markings, Logos check
- Aesthetic, surface and function check
- On-site function check and testing
Apparel/Garment Inspection Checklist:
- Color differences and shifting
- Measurements;
- Stitches;
- Foreign objects like broken pins, human hairs;
- Rub test
- Fabric defects checking
- Stain, mould, odor and insects
- Thread ends
- Customer's specs;
- Packaging, labels and markings
- Special requirements & on-site testing
Final Random Inspection (FRI)
100% products finished, and at least 70% products packed inside the master cartons.
Final product appearance, conformity & functionality pre-shipment inspection.
We will statistically and randomly pick some products by using AQL sampling procedure, and check for: functionality, performance, durability, overall appearance, and dimensions etc.
During Production Inspection (DUPRO)
20%-50% products finished and packed, ideally inside the master cartons.
It allows you to find problems earlier, and take quick corrective action during production stages.
We will statistically and randomly pick some products by using AQL sampling procedure, and check for: functionality, performance, durability, overall appearance, and dimensions etc.
Initial Production Inspection (IPI)
Inspection of key raw materials/components prior to commencement of production. Or some finished products are starting to coming out.
Production Monitoring (PM)
100% finished products full check, or periodically exam the products during the production to make sure as many products as possible are acceptable and defect free.
Report to you daily with pictures, just like you are at the factory yourself.
Mostly for important high-end products, time sensitive, important customers, high value orders.
Sample Picking (SAMPLE)
Independent and impartially taking and sealing of inline production samples, pick randomly from the production, for client verification.
We can also do some inspections.
Container Loading Supervision (CLS)
When the products are loading to the containers, we will supervise the the loading process, make sure the right products, right quantity, right quality are loaded.
Recording of container suitability, loading systems and container sealing.
It will help you avoid short delivery, scam, and future complaints when you deliver the shipment directly to your clents.
Factory Audit (FA)
We check out if the factory/Supplier is real and legit. Apraise overall factory manufacturing capabilities, and quality management procedures.
Socially responsible: Environmental safe, no child labor, no prison labor.
What we check in Factory Audit?
- General info;
- Factory coverage & buildings
- Employee division
- Working hour
- Main production facility / machine
- Manufactory process covered in th audit process;
Checklist & results
1. business Registration;
2. Qualty management system;
3. prduct certification /approvals;
4. company size assessment;
5. Foreign Trade capacity;
6. Research & Develpment capacity;
7. Social environmental responsibility;
8. OEM/ODM experience
Lab Testing
We offer an extensive selection of lab tests, performed to the full range of international standards at our fully accredited laboratories.
Garment/Textile Test Service.
CPSIA,REACH, RoHS Test etc.
Product and factory Sourcing
Find the right products and factories for you.
Help you communicate with the factories.
Develop the products.
Order management
Help you manage your purchase orders' production status, communicate with the factory and solve development and production issues. Just like you have an representative procurement office in China.
If you would like more information, training, project support and supply chain management please contact us. Email: bensing.yang@sinuoph.com